News
May 23, 2023
By Ines Branco
Dr Nora Khaldi Wins NutraChampion Award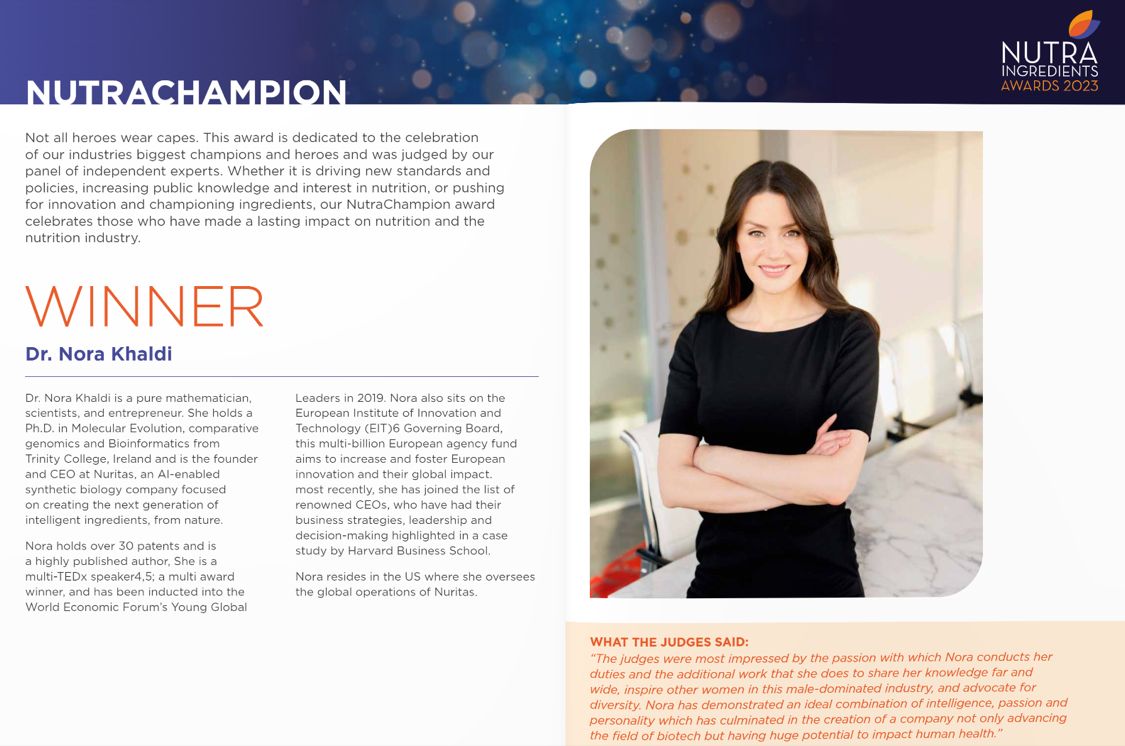 The NutraIngredients Awards were back for the 9th year running, with the event being held on 3rd May via livestream.
This year Nuritas was delighted to announce that our very own Dr Nora Khaldi won the NutraChampion award.
Not all hero's wear capes. This award is dedicated to the celebration of our industries biggest champions and heroes and will be judged by our panel of independent experts. Whether it is for driving new standards and policies, increasing public knowledge and interest in nutrition, or pushing for innovation and championing ingredients, our NutraChampion award will celebrate those who leave a lasting impact on nutrition and the nutrition industry. Entries are by nomination only and should outline why each potential NutraChampion deserves this honour.
"A big thank you to NutraIngredients for the NutraChampion award, it is an honor.
Our company's dedication to driving innovation in the industry has been a core part of our mission.
I want to thank the panel of independent experts for acknowledging our efforts and the team who have been working relentlessly to achieve this milestone.
This award will motivate us to continue making a difference in pioneering a healthier, safer and greener future!" – Dr Nora Khaldi
Full list of winners here: https://nutraingredients-awards.com/live/en/page/2023-winners-finalists
Source: NutraIngredients