News
March 22, 2023
By Ines Branco
Women's History Month: Elevating others with Dr Nora Khaldi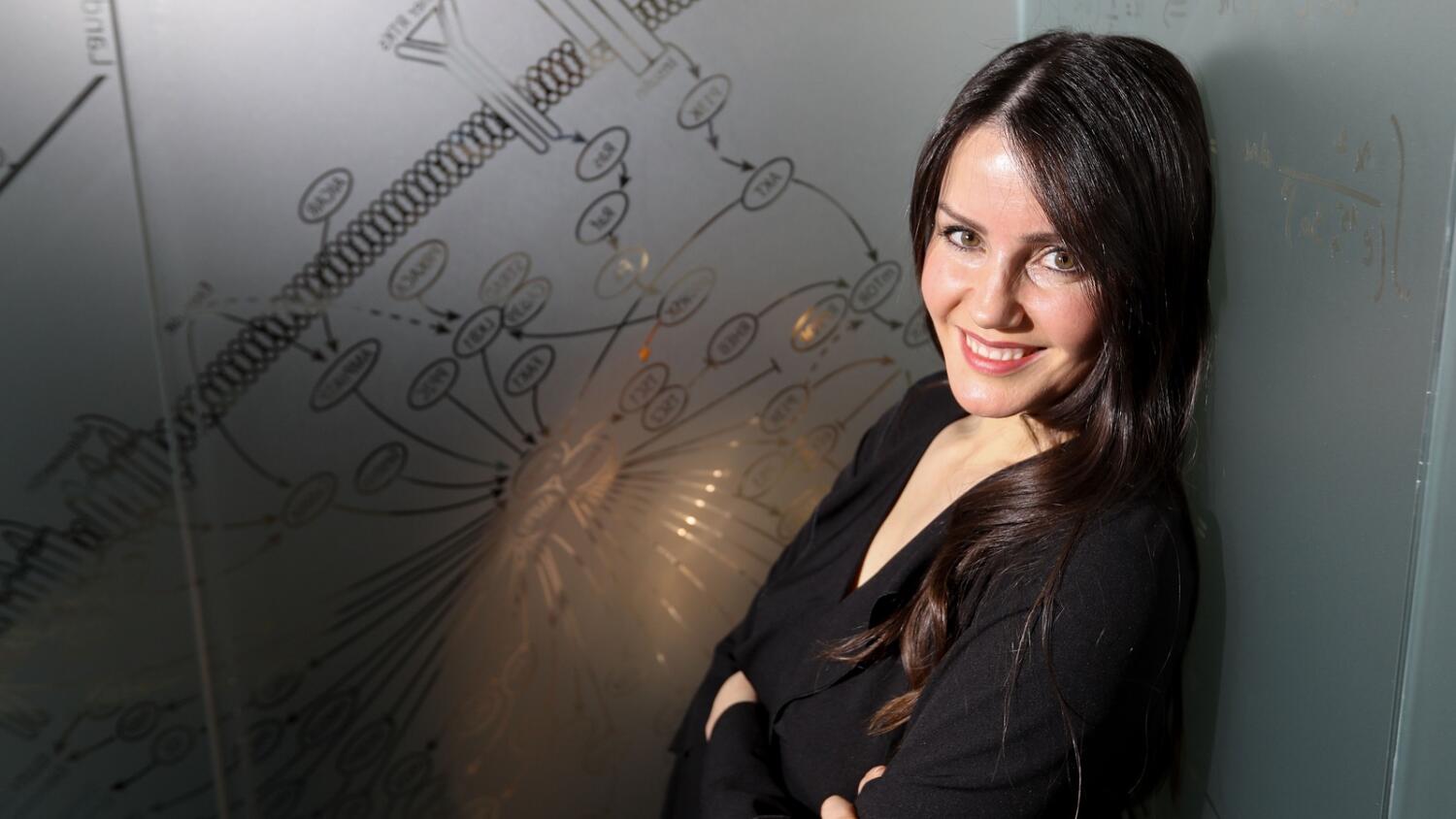 Dr Nora Khaldi
 is a renowned biotech entrepreneur and scientist, who has focused her research on protein evolution and comparative genomics. With a proven track record in discovering and commercialising new health-benefiting molecules, Dr Nora is disrupting the status quo and introducing new ways of thinking, to positively impact the world around us.
Hi Dr Nora, please tell us a little about yourself and your career.
I am the founder and Chief Executive Officer of Nuritas, a biotechnology company able to identify, unlock, clinically test and patent a new generation of active ingredients: bioactive peptides from nature; turning them into powerful and precise ingredients that elevate natural efficacy. I have a PhD in Molecular Evolution and Bioinformatics from Trinity College, Dublin, as well as a Master's in Mathematics from Aix-Marseille University.
My research has focused primarily on protein evolution and comparative genomics. Some of my publications have been placed in a library of the top 2% of published articles in the fields of biology and medicine.
Throughout my career, my ambition has been to disrupt the status quo in areas that have been void of technology by introducing new ways of thinking, big data, and new algorithms. Prior to Nuritas, I was the first scientist to show gene transfer between multi-cellular species. This groundbreaking find put into question many of the phylogenetic methods currently in use today.
I have also developed a multitude of innovative software throughout my research career that is used to this day by research institutes and companies in over 70 countries. I have had the chance to lead international research teams around the world, in both academic and industrial settings, and have a proven record in new health-benefiting molecule discovery and commercialisation.
What inspired you to launch Nuritas?
The key to preventing and curing many diseases lies in food. When creating Nuritas in 2014, my goal was to contribute to disrupting the status quo of ingredient discovery by integrating artificial intelligence (AI) and big data to unlock novel bio-active peptides from food-based materials for the development of solutions to address consumer needs.
For decades, a product-centric focus on costs, taste and texture has left us blind-sided to the long-term impacts of the ingredients these products contain. Apart from cooler names and nicer packaging most products we buy still have ingredients that seem to do more harm than good for both us and the planet.
What positive impact is Nuritas providing?
Our mission at Nuritas is to make revolutionary discoveries of healthier, safer and greener ingredients, that will help companies create a better version of the products we consume every day from what we eat, to what we apply on our skin, all the way to animal nutrition. Products that will allow people to live healthier for longer. That is the story of Nuritas.
Our intelligent ingredient for muscle health, PeptiStrong for instance is revolutionising the industry as a plant-based ingredient outperforming animal protein.
PeptiStrong contains the first natural peptides with a synergistic effect on muscle recovery, strength, energy and mobility. It is a plant-based ingredient, providing a range of solutions that together represent "anti-ageing for muscles", particularly suited to menopausal women, athletes and fitness fans, and ageing adults looking to boost strength and reduce fatigue.
If you would like to try it out, Glaxon has partnered with Nuritas to create a new supplement called Anomaly, becoming the first brand to use PeptiStrong as one of its active ingredients, available via Glaxon & GNC. There are also two other new products on the market, which are powered by Nuritas: Nutrabolt has launched a Cellucor P6 innovation and Healthgevity has just released their anti-ageing, precision peptide supplement LONGEVITY.
What has been the most challenging aspect of your career?
There are so many learning curves when you are starting out, but one thing that I found important was not to take the response "no" personally. Any entrepreneur, male or female, will tell you that there can be a lot of "nos" when you're talking to companies or different individuals. Initially, when you're starting out and building your network you take these rejections personally, but it's not personal. It's just that the moment isn't right and you just need to pursue what you're working on, make it better, and come back to them in the future. Don't write people off for telling you "no" on your first attempt.
The second thing that is so important is surrounding yourself with good people. The biggest thing that I pushed from day one was to surround myself with the best people and I didn't accept okay standards. I just wanted a really kick-ass team and it has made all the difference. Invest in great people early on in your company and you will see the benefits right away.
Likewise, what has been your greatest success?
Founding Nuritas is the highlight of my career and taught me many things. I am proud to see that in general, a lot happens in the lab, but Nuritas is applying the research to concrete solutions for humans really quickly and efficiently, with result-proven products. We have already launched two ingredients: a plant-based revolution in muscle health and a multi-targeted cosmetic ingredient.
Those ingredients are a new generation of ingredients: they are peptides found in nature. They exert a cell-signalling effect, sending a message to our body to instruct it to work at its best. They are a language, the language of life. This technology complements the ingredients we have known until today, but can also replace them. Over the next few years, I plan to lead the Nuritas team in their goal of reaching billions of people with their life-changing ingredients.
In 2017, the Women Economic Forum brought together more than 400 women and men from across the EU and Europe, along with delegates from across the world, to celebrate the innovators and entrepreneurs that are making a difference in the EU.
I was very honoured to have been chosen for the 'Woman of the Decade in Business and Leadership award and to see my scientific research as well as her leadership qualities recognised. I think events and organisations such as this are incredibly important as we need to connect and celebrate innovators that are making the world a better place. In 2019, I also had the chance to be inducted into the Young Global Leaders, the World Economic Forum's foundation for remarkable leaders under 40.
In parallel, I sit on the European Institute of Innovation and Technology (EIT) Governing Board since 2021 where I, along with the other 11 members of the EIT board, look forward to making innovation happen and empowering the EUs largest innovation network. At a time when we are facing some of the greatest health and economic challenges, the EIT will be a tremendous innovation driver in Europe and will be key to developing the solutions we need. It is a privilege to be part of this initiative and deliver innovation.
Why is it important to you to elevate other women?
It is vitally important to continue to elevate women in STEM professions and cultivate a diverse workplace that accurately represents the consumers who we are trying to reach. I am a strong supporter of women in the science industry, and proud of Nuritas' 50/50 split in male and female employees, a unique feature in the science field.
In October 2022, I was honoured to receive the headline award at the Diversity in Tech Awards, which shone a light on individuals and organisations striving to create a more diverse and inclusive workplace. Named after the pioneering computer scientist, the Grace Hopper Award pays tribute to and recognises a female STEM professional whose exceptional achievements have made a lasting impact on technology, society, and their profession.
What do you wish you could tell your 5-year-old self?
I have always been very ambitious and motivated, even at a young age. If I could talk to my younger self, I would tell her to surround herself with talented people and continue to rely on the support of her family and community. This was what helped me achieve so much at such a young age. I was very fortunate to have many people who helped me in my career including family, amazing teachers, professors and mentors.
Full article link: https://bit.ly/3lpbQHT
Source: March8