News
July 20, 2023
By Ines Branco
NURITAS USES AI TO UNCOVER NATURAL INGREDIENTS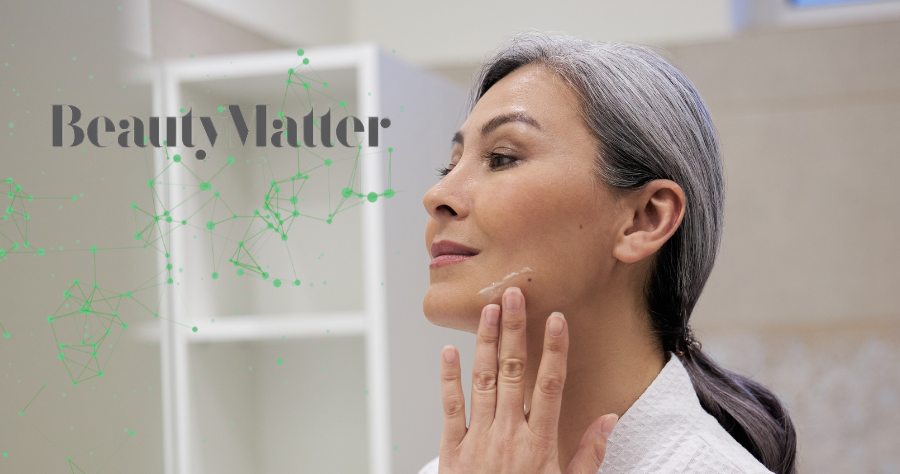 AI is becoming increasingly normalized, so much so that 68% of businesses harness its powers to amplify their brands and products. While most think of AI's place in beauty as taking the form of skin diagnostic tools, try-on technologies, and retail activations, artificial intelligence is now being used to progress the industry one step further, uncovering new and efficacious ingredients. Recently, the life science and artificial intelligence business Nuritas has done precisely this, discovering a new ingredient—PeptiYouth.
PeptiYouth is said to be "the first AI-discovered nature-identical peptide, "which works to help restore the extracellular matrix of the skin (a large network of proteins and other molecules that surround, support, and give structure to cells and tissues in the body) while tackling five signs of aging: deep wrinkles, dull skin, pores, dark spots, and an uneven skin tone. The ingredient is plant-sourced, able to work in synergy with varying skincare formulas at a low concentration to produce high results.
"Until today, we had lacked the technology to identify some of the most multitargeted cosmetic ingredients that had remained hidden in nature, sometimes for millions of years. The use of AI brings tremendous potential to the beauty industry when it comes to unlocking this next generation of intelligence. The next generation of peptides are a great example: they can deliver multitargeted efficacy on multiple signs of aging, in one ingredient, and at a very low dose," Marie Bruckert, Growth Marketing and Business Strategy Director at Nuritas, tells BeautyMatter.
PeptiYouth works both as a stand-alone ingredient while also having the ability to complement traditional cosmetic ingredients, including retinol and vitamin C. The ingredient amplifies the capabilities of retinol—a combination said to show a synergistic effect on the skin in as little as four days of treatment at a very low dose. When combined with vitamin C, PeptiYouth once again showed synergistic results, supporting the maintenance of hyaluronic acid-binding proteins that keep the skin hydrated.
The newfound ingredient's ability to increase the effectiveness of actives offers a solution for those who typically have reactions to such ingredients including irritation, peeling, and skin burning. Many consumers have usage issues with retinol, not knowing how much percentage of the ingredient will work for them, leaving a large number reporting severe side effects across social media. PeptiYouth comes at a time where 77% of consumers report interest in natural versions of retinol, and although not a retinol itself, the ingredient offers a solution for consumers who will now not have to use such a high concentration of retinol, reducing chemically induced side effects while still giving full impact and benefits.
"Until today, we had lacked the technology to identify some of the most multitargeted cosmetic ingredients that had remained hidden in nature, sometimes for millions of years."
BY MARIE BRUCKERT, GROWTH MARKETING AND BUSINESS STRATEGY DIRECTOR, NURITAS
The Nuritas team sees the ingredient at the forefront of skincare innovation. "PeptiYouth is a perfect example of how we work to deliver value for our customers. With the first generation of skincare peptides, the focus was mostly on skin collagen, using molecules that were very often chemically modified. PeptiYouth is nature-identical. It can be the core ingredient of an entire range or easily introduced in existing formulas to elevate their efficacy. It is truly the next generation of skincare peptides," Bruckert adds.
PeptiYouth can be formulated into various product matrices including serums, face creams, eye creams, pigmented cosmetics, and SPFs. The ingredient has been tested on over 200 volunteers, both male and female, through a trial period of 58 days, with no reports of side effects.
"The use of AI brings enormous value to R&D because this next generation of peptides has the potential to replace several ingredients and to build shorter, cleaner formulas while delivering superior efficacy," Bruckert continues. "This is an answer to consumer expectation for clean beauty and enhanced efficacy, and this answer has been hidden in nature for all this time."
PeptiYouth is the first AI-detected ingredient for Nuritas, with the company hoping to continue to use this technology to uncover more breakthroughs in beauty. As AI grows at a surging rate throughout all industries, its power is sure to continue to offer results within the beauty sector. The technology's capability to uncover ingredients offers a promising future for product solutions and development across not only skincare but several other beauty categories.
Full article here
Source: BeautyMatter