News
April 7, 2021
By Nuritas
Sumitomo Chemical and Nuritas Announce Partnership on the Discovery of Bioactive Peptides Through Artificial Intelligence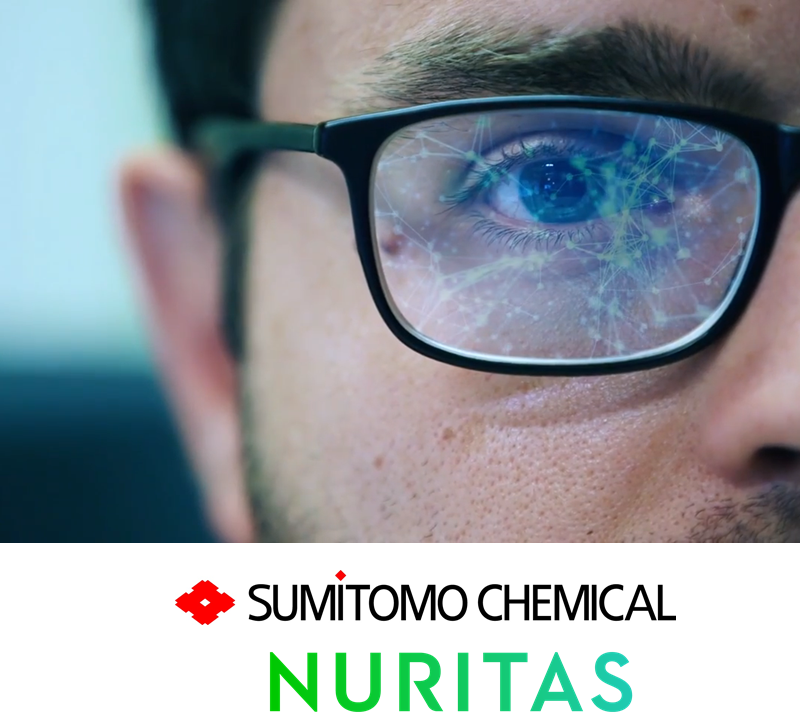 Dublin, Ireland, April 7th  2021 – Sumitomo Chemical Co., Ltd. and Nuritas announced today that they have signed a multi-year partnership to sustainably support the food production systems needed to feed the growing global population.
This hugely important partnership will see Nuritas deploy its award-winning and novel technology platform, which uses Artificial Intelligence and DNA analysis to predict, unlock, and validate highly efficacious peptides, from plant sources. Sumitomo Chemical Co., Ltd. will use its considerable scientific know-how and applications expertise to validate the efficacy of these new discoveries within field tests and then commercialise the ensuing products globally.
"We are honoured to be collaborating with Sumitomo Chemical Co., Ltd. At Nuritas our mission is to positively impact billions of lives. To achieve this, we need to focus on the big problems, and none are bigger than the challenge of producing sufficient food, sustainably, to feed the increasing world population", said Nora Khaldi, Founder and Chief Executive Officer of Nuritas.
Isao Kurimoto, Executive Officer, Research Planning and Coordination Dept. at Sumitomo Chemical Co., Ltd. said, "Sumitomo Chemical has set four focused areas, which are Healthcare, Reducing Environmental Impact, Food and ICT in our current Corporate Business Plan. Partnering with Nuritas aligns with our strategic focused plan and will allow us to create and deliver sustainable solutions in food production with our experience and expertise in commercialisation."
"The global population is expected to reach close to 10 billion by 2050." said Neil Foster, Head of Strategic Partnerships at Nuritas. "Feeding the world without destroying it is a fundamental challenge faced by industry and we are delighted to be partnering with Sumitomo Chemical Co. to be part of the solution."
Mary Kinnane Enterprise Ireland's Asia Pacific Regional Director said, "This is very positive news for Nuritas and a testament to the commitment and innovation at the heart of this globally ambitious company.  Enterprise Ireland is proud to have been able to assist Nuritas in its efforts to develop the Japanese and Asian markets, including this important partnership with Sumitomo Chemical Co. Ltd, one of Japan's leading corporates.  This major development for Nuritas further strengthens the reputation of Irish business in Japan, a market which is open to and receptive of increasingly sophisticated and ambitious Enterprise Ireland supported companies''
Nuritas is a rapidly growing, award-winning digital biotechnology and R&D company which has created remarkable interest globally for its peptide-finding platform capabilities.
END
About Sumitomo Chemical Company Limited
Headquartered in Tokyo, Japan, Sumitomo Chemical is one of Japan's leading chemical companies. It offers a diverse range of products globally in the fields of petrochemicals, energy and functional materials, IT-related chemicals and materials, health and crop science products, and pharmaceuticals. The company's consolidated sales revenue for fiscal year 2019 was JPY 2.2 trillion and number of employee is about 34,000 as of March 31, 2020. For additional information, visit the company's website at https://www.sumitomo-chem.co.jp/